Ethereum price remains bullish on the one-day chart. In that time frame, the altcoin has gained 3% in value.
Over the past week, the coin surged over 21%, breaking several resistance levels, giving further strength to the bulls.
The coin needs to cross two important resistance lines to continue its bullish streak. The technical outlook of the token continues to show bullish momentum.
There was a surplus of buyers as the price of Ethereum moved up into the overbought zone. Bitcoin has finally hit the $20,000 price mark in the last 24 hours, turning other altcoins positive as well.
Ethereum price has been range bound for several weeks, but with the overall market turning green, the coin has helped the altcoin keep an eye on its next major resistance line.
If ETH manages to break the $16,000 area, a move towards the $2,000 price mark is likely. On the other hand, if the buying power turns down, ETH may start showing range bound price movement again.
Ethereum Price Analysis: One Day Chart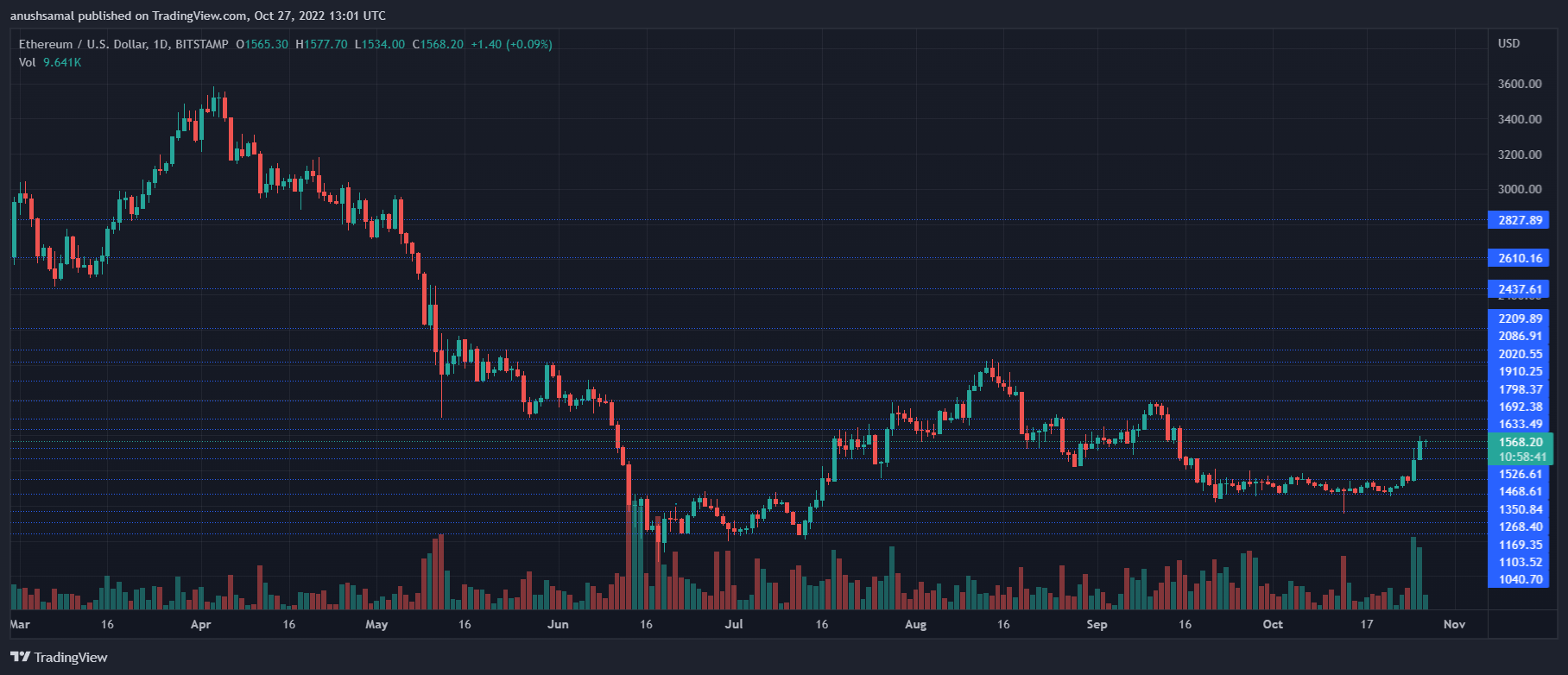 At the time of writing, ETH was trading at $1,560. Ethereum price has risen significantly over the past week, breaking its consolidation phase.
If the coin is to sustain this price momentum, it is important that it trades above its immediate resistance of $1,630. A move beyond that level will help the bulls challenge the $1,700 price mark.
This will strengthen the bullish thesis. Once the altcoin crosses the $1,900 mark, the price of Ethereum will be completely under the control of the bulls.
If the bounce does not hold, the decline will bring the altcoin first to $1,300 and then to $1,200 eventually. Over the past few trading sessions, ETH trading volume has seen an increase, which points to higher demand for the altcoin.
technical analysis

The altcoin was overbought on the one-day chart. Ethereum last visited the region in the month of August.
This is a multi-month high for the altcoin in relation to the buying pressure. The relative strength index was above the 80-mark, indicating that ETH was overbought as demand for the coin increased.
Ethereum price traded above the 20-SMA line, which was a bullish sign as buyers were driving the price momentum in the market.
With continued demand, the 20-SMA may cross the 50-SMA line, forming a golden cross, which is considered bullish.

Other technical indicators were also significantly bullish, supporting the notion that buyers had taken possession. Moving Average Convergence Divergence indicates the price movement and price direction of the coin.
MACD was positive as it created green signal bars that were rising. This pointed to a buy signal for the coin.
The Directional Movement Index was also positive as the +DI was above the -DI line, indicating a bullish direction.
The Average Directional Index (red) was above the 20-point, indicating the price direction was consolidating.


Credit : www.newsbtc.com