On October 20, 2022, Startup Canada hosted its flagship event, Startup Day, where we gathered entrepreneurs, government representatives and private sector partners from across Canada to discuss the state of entrepreneurship and future trends. More than 1,200 people from 242 cities across Canada participated in this exciting event in person and virtually. did you miss that day? Keep reading to see some of the highlights.
1) Panel
The day was filled with insightful panels with top-notch speakers. From entrepreneurs to government representatives and private sector leaders, we heard from diverse perspectives on topics such as building inclusive ecosystems, the pandemic's impact on small businesses, and future trends in entrepreneurship. To view any of our panels, check out our full event recording of the day here.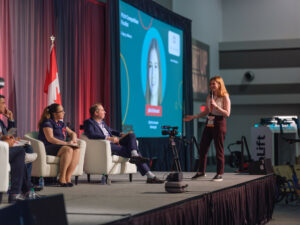 2) Startup Global 2022 Pitch Competition
During the day, 11 of our Startup Global Pitch Contest finalists took the stage to compete for $30,000 (1st place), $15,000 (2nd place), and $10,000 (3rd place) to grow their business. After rigorous judges' consultation, RetinaLogic's Julia St. Amand took first place, followed by Pragmaclean's Bronwyn Bridges in second, and Arbre's Stephanie Tien in third place. To see the full announcement, click here.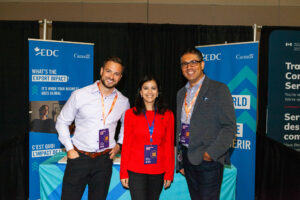 3) Exhibitor Booth
Throughout the day, 24 entrepreneurial support organizations from across Canada set up our exhibitors to showcase their services to the region and how they support entrepreneurs. From startup legal services to government aid and esports services, there was something for everyone regardless of the stage of their business.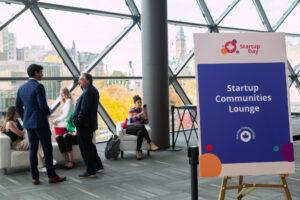 4) Startup Community
Entrepreneurship can be a lonely journey. But did you know that we have a grassroots network of over 40 startup communities across Canada and across a variety of industries? These local chapters help connect you with other entrepreneurs in your area, as well as regional support and resources. Many of these communities were present on Startup Day, cementing their relationships with their community members. Interested in seeing what community you can join? See our list of chapters here.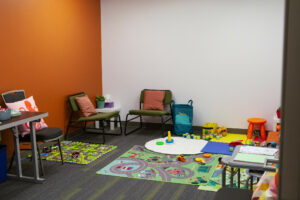 5) ParentPreneur Lounge
Finally, our final highlight was our ParentPreneur Lounge hosted by Mixing Babies & Business™, supported by our Community Empowerment Fund presented by UPS, MasterCard and BDC. This program was a dedicated space for caregivers and their families to support working parents wishing to participate in the program. This parent-friendly space was designed for pre-school-aged children and has toys to support parents if they bring their child to the program. It was also an opportunity to share tips and lessons learned to network with other working parents.
startup day photos
Want to see more highlights and photos from that day? Check out our photo album to see some of the panelists, attendees, exhibitor booths, and more!
wrap
Whether you participated in person or virtually, we hope you have enjoyed Startup Day 2022 and leave feeling inspired and empowered by the connections you have made. Would you like to be the first to know when the Early Bird tickets for Startup Day 2023 will be available? Sign up for our mailing list to avoid missing out. We look forward to seeing you next year!