Bitcoin price continues to break the resistance level, reclaiming previously lost territory. Unlike other rallies in the current sector, this price action may suggest a continuing trend and a new dawn for the industry after months of collapsing companies and bankruptcies.
As of this writing, Bitcoin (BTC) is trading at $22,800 with horizontal momentum over the past 24 hours. In the past week, the cryptocurrency registered a 10% gain. Other cryptocurrencies in the top 10 by market capitalization are experiencing similar price action with substantial gains during this period.
Has Bitcoin Finally Bottomed?
according to a Analyst, Jarvis Labs The current bitcoin rally is the result of a prolonged period of consolidation below the 200-day moving average (MA). This moving average is one of the most important levels for BTC which acts as an important support during bearish cycles.
As bitcoin has retested the 200-day MA at around $19,520, analysts are looking to see a consolidation above this level. The rally could extend if the cryptocurrency can sustain above it, cementing a "flip of the 200-day MA from resistance to support," pushing BTC higher.
As seen in the chart below, during the 2019 bear market, BTC saw a prolonged consolidation below its 200-day MA before reclaiming these levels later in the year. According to the analyst, the longer the consolidation lasts, the better the overall market structure for BTC will improve as other moving averages rise.
The upside does not mean that bitcoin will continue its upward move, returning to its all-time high of $69,000. Instead, it suggests that BTC's market health is improving, and the foundation is building for further upside.
This new status quo turns any potential downside break into an opportunity for optimistic investors. The analyst at Jarvis Labs wrote:
(…) And while there is still a fairly high chance that prices will be revisited at some point in early January 2023, there is also a strong piece of data that suggests that any such retest There will be a major buying opportunity.
Accumulation Levels Indicate Like BTC Bottom in 2019
Apart from this period of consolidation below the 200-day MA, which signals a 2019-like bottom, BTC has seen "consistent accumulation". The image below shows that bitcoin investors are "moderately accumulating" the cryptocurrency (blue dots in the chart below).
Similar to the 2018-2019 bear market, this accumulation period was preceded by market rallies. In the coming months, bitcoin should see more aggressive accumulation (red dots in the chart below) to support another bullish season.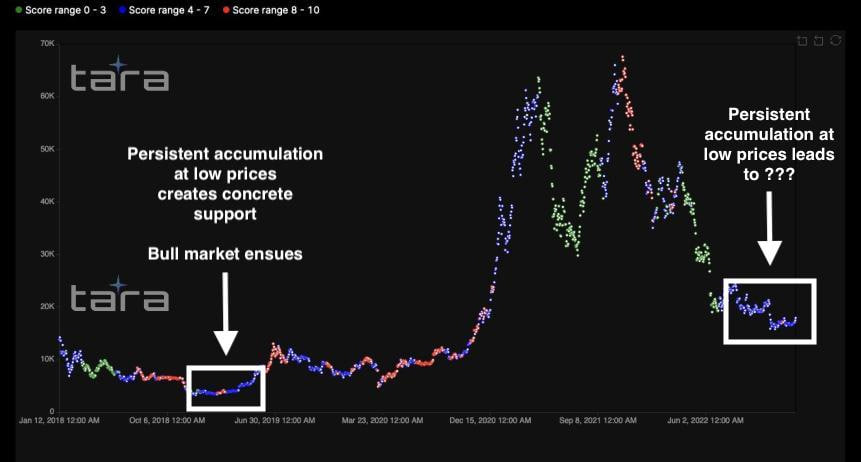 The US Federal Reserve (Fed) remains the biggest obstacle to the bitcoin rally. Financial institutions are raising interest rates to reduce inflation, hurting the financial markets.
Market participants expect the Fed to pivot its monetary policy, but gains in stocks and crypto, combined with sticky inflation, could do the opposite. If it does, bullish investors could look at a buying opportunity presented by an analyst at Jarvis Labs.


Credit : newsbtc.com