Despite its 17.3% year-to-date (YTD) increase, XRP price remains in bearish territory. Over the past two weeks, XRP failed to break above the 200-day exponential moving average (EMA) in several attempts.
At press time, XRP was trading at $0.3970 and found support at the 50- and 100-day EMAs. However, to trigger a bullish move, it needs a break above the 200-days EMA, which is currently at $0.4147. The indicator reflects the long-term trend, and a breach of this level could spark a bullish move.
Meanwhile, an inverse crossing of the 50-day EMA by the 200-day EMA should also be watched. Currently, the 50-day EMA is approaching the 200-day EMA, and an upside crossover, also known as a golden cross, could also set up a new uptrend.
If this happens, the main stronghold of the bears could be the resistance area at $0.54. If the bulls manage to break above the level, XRP will climb to a 9-month high, a level XRP investors have not seen since the collapse of Terra Luna.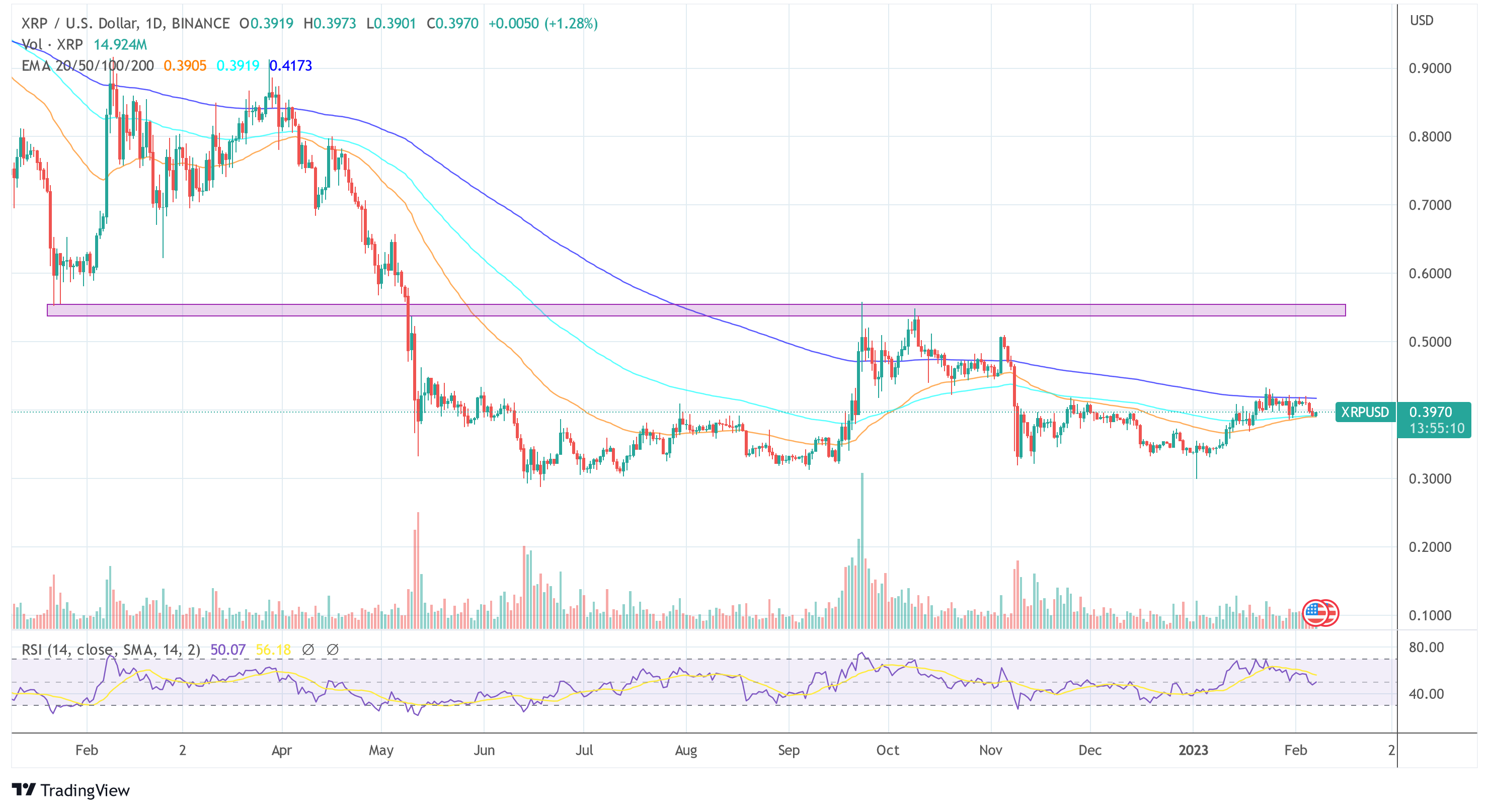 Will XRP Rise On This Rumor?
The fuel for the XRP rally may come from a new rumor within the XRP community. The pseudonymous XRP influencer claims that global payments giant Visa is secretly working with Ripple.
one in Video Posted on Twitter, he noted that Visa has worked with at least four Ripple partners in recent years as part of partnerships or outright acquisitions. These are Earthport, DMoney, CurrencyCloud and Novatti.
Back in 2014, Ripple Labs and Earthport announced a global partnership. In December 2018, Visa acquired Earthport for $250 million, facing a battle with Mastercard over the acquisition.
The second company Visa acquired after partnering with Ripple is CurrencyCloud. The company announced a partnership with Ripple in July 2020 to process cross-border payments through RippleNet. A year and a half later, in December 2021, Visa acquired CurrencyCloud.
The partners that both Ripple and Visa are working with are Ripple's longtime partners Novatti and DeeMoney. The latter partnered with Ripple in March 2018 to enable faster and cheaper cross-border payments.
In December 2022, DeMoney and Visa agreed to a partnership to enable real-time cross-border payments and send Thai Baht to more than 170 countries.
Novatti is using an XRP-based On-Demand Liquidity (ODL) solution to scale Australian remittance payments to Southeast Asia from April 2021. Back in September 2020, Novatti introduced a new payment platform for marked Visa cards.
The influencer sees these connections as evidence that Ripple and Visa are secretly working together. "Ripple gets in, Visa gets it. Why? Because it's the foundation. They're going to generate revenue from it," concluded the influencer.
However, it is important to note that this is just speculation. Both Earthport and CurrencyCloud are no longer listed as partners on Ripple's website.
Furthermore, these partnerships and acquisitions are typically about expanding the reach of Visa's proprietary payment solutions — neither Ripple nor XRP were mentioned in the official press release.
Therefore, it is difficult to claim that Visa is secretly collaborating with Ripple. Still, these are interesting ties that could play a role in the future.
Featured image from iStock, Chart from TradingView.com




Credit : www.newsbtc.com